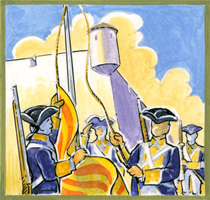 This blog has been created with the purpose of showing, step by step, the gestation and birth of a new Imagi-nation (ie, a fictional country set in the 18th century for wargaming purposes, just as those in the Emperor vs Elector community), from the basis of recreating a military campaign that actually occurred in the last stages of War of Spanish Succession, and creating the new Imagi-nation afterwards, accordingly to the campaign aftermath -whatever the result.

I'm referring to the Two Crowns' 1713-1714 campaign for the submission of Catalonia, which I'm planning to re-fight since its very start -i.e. since the withdrawal of Imperial Army from the Peninsula in July 1713 until a still uncertain end.

Development of this project will be a bit slow at first, for it's my aim to build it in several stages, as explained in these posts on another blog of mine. My very first step is going to be writing eventual thoughts, ideas and plans for setting the campaign and ruling it -this is is the reason for I guess it will result hardly exciting at first. Nevertheless, if everything goes as expected, I'm sure it will be growing more and more in dynamism.

It's still unknown to me whether the campaign will have to be carried in a solo way or not. In spite that some friends of mine have already suggested being invited to game any of the battles, I suspect that all this is to be essentially a solo adventure. However, I would warmly accept any kind of suggestions, either about game mechanisms, rules and management, or about strategy of the Armies as well as events of the campaign itself, once started.

Sure that some eventual suggestions might eventually result in real challenges to "my" Imagi-Nation success -even a little "stress", but I believe it would contribute to make this an actually exciting adventure, no doubt.