Monte-Cristo, 19th July 1713
Not less happy in his brand new Royal Catalan Guards uniform than a dwarf in a diamonds mine, Friedrich Leibnitz was relaxedly observing the overall docking operation, performed with amazing, professional precision by a so disparate improvised team as the Monte Cristan pilot and the Catalan sailors. From his position at the xebec's bow, the young military then noticed the presence on pier of a reduced albeit distinguished delegation, evidently waiting for them.
-It's the entourage of His Excellence Louis-Ferdinand Celine de Saint-Gobain
-said Lord Vilana at Friedrich's rear, as responding in advance to an eventual question-.
Formally, he's coming to welcome us as this country's Counselor of Relations with Foreign residents, but also to discretely inspect us...
-he ironically added-.
Besides of the already mentioned employment, he's also empowered as some kind of Ministry of Interior, my young friend; a most influent man in Court, and no doubt a potentially powerful ally, if conveniently reassured about our friendly intentions.
-The Marquis of Vilana then advanced a couple of steps to become clearly visible from pier, and discretely smiled to Lord Counselor while slightly bowing his head with elegance, as a salutation to their distinguished hosts.
It was then when Leibnitz noticed, among the Monte Cristan delegation members, the presence of a woman he judged to be beautiful. She was clad in a courtly version of a hunting dress, noticeably completed with sword in scabbard. Uncapable to discern whom was she looking at, he incounsciously straightened up and adopted a gentlemanly posture. Such a gesture wasn't unnoticed to Vilana, who smiled with indulgence and exclaimed: -
Blessed you young people, who happen to attract at each other as opposite poles of a magnet! ...A certainly extraordinary woman, I'd say, worth of the most gentle courtoisies ...Are you good at French language, Friedrich?
-then he humourously asked.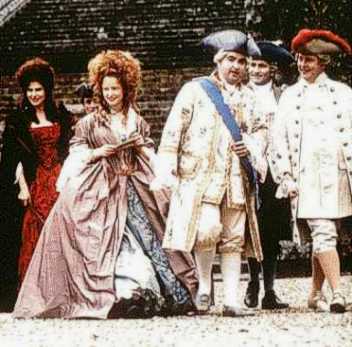 -
Bien sûr, Monsieur l'Ambassadeur
-Leibnitz answered, with a wide, somewhat innocent smile in face.
-
Keep then your ears and instincts aware if you happen to meet her
-Vilana answered, suddenly serious-.
If this woman's qualities do really match with her superb appearance, she's most probably an officer of Monte-Cristan famous Gardes de l'Etrier...
-
A woman, officer?
-asked Leibnitz with surprise.
-
From the strict point of view of Reason, my dear friend
-Vilana responded, adopting a somewhat teaching tone-,
there are no consistent arguments to keep Woman at a lower stage than Man's own; no other than dogmatic misogyny or superstition. Would you say otherwise, my friend, having such an amazing woman in sight?
-he cunningly concluded. Leibnitz couldn't avoid a seduced smile at the Monte-Cristan she-knight, who was now obviously observing him.
-
Aprioristically, we shouldn't take her as any enemy to us, Friedrich. However, please have always in mind
-Vilana concluded, quickly serious again-
that such kind of agents are committed to their duty above any other consideration; be explicitly respectful to it, and strictly faithful to your own mission, and you'll be gaining her respect and favour. Few best allies you can achieve in this country as a Gardes de l'Etrier officer.
-
Ship is conveniently moored, Sire
-the boatswain interrupted them-,
you can disembark at will
.
-
Excellent! Let's meet our distinguished hosts, then
-Vilana replied.