Somewhere close to Cervera town, 25th July 1713
At the headquarters of the Spanish Army Group Center, the Duke of Populi gathered all his officers under the shelter of a wide tent. While the officers readily occupied their designed places, under the solemnial glance of their commander-in-chief, it could be heard far away the rythmical thump of Spanish mortars battering the walls of Cervera town. Once all of his subordinates were seated, the Duke loudly asked:
-Major Ordoñez, please explain to us the situation in a few words.-Ehem, yes Sire
-this quickly responded-
Not only have the town councils of Cervera, Montblanc and Igualada refused to pay due obedience to His Royal Majesty king Philip V, claiming to only owe allegiance to Charles of Habsburg, but even have been so superb and audacious to rise populace in arms against our troops.
-Inconceivable!
-an officer exclaimed.
-What an insolence!
-murmured another one. Everywhere, expressions clearly showed deception, disappointment and rage.
-However
-then General Vallejo pointed-,
we are proud to announce the rebellion to have been smashed at Igualada. We are now mastering the place again, and the rebellion leaders have all been apprehended.-Good, that's really good news
-answered the Duke-
And what about the other two towns, may I ask?-Sadly, I must admit that Montblanc is still resisting our efforts
-cautiously informed General Velasco.
-Besides, as you can clearly perceive there out
-the Duke then said, while adressing an angry glance to General Torre-,
Cervera town is also still resisting. It's only a matter of time, we know; they shall give up, sooner or later. And this is precisely the matter I wished to talk you about, gentlemen: the day after their surrender.
The Duke of Populi then expanded a roll of paper he had been keeping at hand and, after a little theatrical pause, started in a studied loud voice:
-I was yesterday delivered this missive straight from His Royal Majesty King Philip V -God bless Him- with His explicite orders on this subject. It reads as follows: "De las gentes de armas de los catalanes, se servirán vuesas mercedes de pasar a cuchillo a los prisioneros, menos algunos más señalados, a los que mandarán ahorcar." ["About the Men-of-arms of the Catalans, shall they be slaughtered by the sword, except those most prominent among them, who shall be hanged on the gallows"] (*)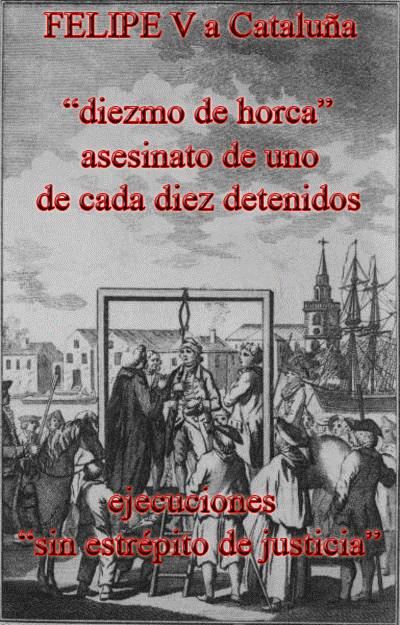 The Duke then paused to look around. Expectation was high, nobody was moving a muscle or said anything, so that he continued reading:
-"De las villas y pueblos que se alcen en armas, espero practicarán el diezmo de horca entre los paysanos, pegándole fuego después de esto a casas y lugares, para que sirva de escarmiento y exemplo."
["In the towns and villages having risen up in arms, it is My will that gallows tythe is practised among their inhabitants, thereafter setting in fire houses and places, to serve as warning and example"] (*)
After these words, a deep silence spread over the wide tent. Only a somewhat puzzled young officer dared to quietly ask to the one at his side:
-¿Diezmo de horca?-Yes, hanging on the gallows one in ten villagers, randomly chosen. That's Diezmo de horca, Gallows Tithe.-Oh...-Any questions, gentlemen?
-the Duke asked. Nobody broke the silence
-Alright, gentlemen. I must understand that all and everyone of you know well what must be done in Igualada, and what shall thereafter be done in Cervera and Montblanc, and in any other village, town or city insolent enough to rise in arms against their legitime King and Lord. Gentlemen, I expect you back to your duties as soon as your horses can.(*) [Inspired in actual orders issued by Philip V to the Duke of Populi (Archivo General de Simancas, book 143, April 1713) and from this to his generals (Archivo Histórico Nacional de Madrid, bundle 433-1, July 1713, from Populi to Grimaldo), as well as personal chronicles of Populi himself, Marquis of San Felipe, and General Bracamonte].