Monte-Cristo, 7th August 1713
The Marquis of Vilana was sitting in a comfortable rocking chair, enjoying the shadow under the Hostel porch, when Lieutenant Leibnitz came close to him:
-Glad you're back again, my young friend
, he said.
-I beg your pardon for having been sick these days
-Leibnitz politely answered. He had slimmed down a bit, and his face was paler than usual, for fevers had been strong enough to have him in bed a couple of weeks. The Monte-Cristan officer Claire Baizanville, who was accompanying Leibnitz, sweetly put her hand on his arm and added:
-You should rest a little more, Friedrich. You aren't in your best shape yet.-I do agree
-Vilana observed.
-Oh don't worry my friends, I'm actually quite recovered
-the young officer quickly answered-
Any further, this morning I went for a walk to the harbour with no effort. By the way, at harbour I noticed... well, something worthy to be known, Sir.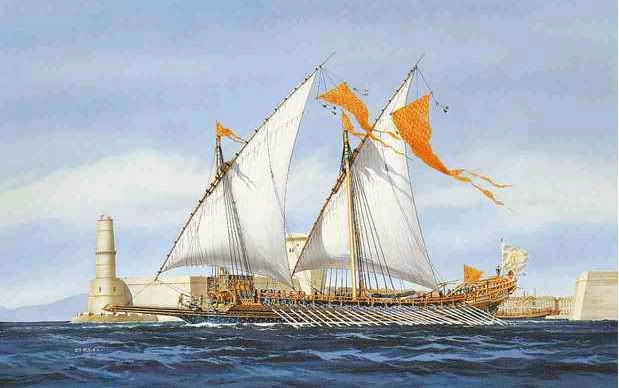 -The galley, you mean?
-Frowning, Claire asked. Apparently she was already aware of the matter.
-Yes, a Spanish galley.-I was persuaded you would notice it too, Friedrich
-then, Claire turned towards Vilana, who was paying his most attention to the news-.
Yesterday in the morning, a Spanish galley anchored in port. Her name is "Intrépida", and belongs to the Cartagena Squadron.-I'd wish to have been acknowledged before
-The legate inquired with concern.
-I believe so, Sir
-Claire responded-,
but I wouldn't like to have alarmed you unnecessarily. Not before getting... some further information.-And?-The galley brought the Marquis de Ordoño, Sir.
The Marquis of Vilana kept silence for some moments, lifting his hands up to the face and their palms together, as if praying. The Marquis de Ordoño in Monte-Cristo... it wasn't any good news. Ordoño was perhaps the most out-standing element of Spanish diplomacy, the one who lead the legacy of Philip d'Anjou at Utrecht... He envisaged a lot of problems for their mission from that very moment on. However, Vilana thought, the arrival of Ordoño in Monte-Cristo could also be read otherwise, for it would mean that their own job was being fruitful enough to get Madrid seriously worried about them... In the end, it meant the Catalan Legacy was on track
-Well, it seems they're anxious to counter-attack
-he simply said-.
Alright, we must give them no time to breathe. Did you say to be in good shape, Leibnitz?-Tell me, Sir.-We must perform in advance to Ordoño. Try to arrange a meeting with French diplomacy as soon as possible; meanwhile, I'll try and prospect someone close to the Sublime Porte... A risky option, but at least it will keep them busy.
Following Vilana's instructions, Leibnitz was going out when Claire followed him. At the exterior gates of the Hostel, the beautiful Monte-Cristan officer stepped forward and stopped him:
-There is more about the galley, Friedrich. Our agents have known the ship is full of soldiers.
Leibnitz shrinked shoulders and answered:
-What's the matter? Our own ship also brought a military detachment, as you know, for protection of our Legate. These soldiers you say must be the personal escort of Marquis de Ordoño, I can't see any...
Claire then insisted:
-A whole company of Royal Walloon Guards? They outnumber your Legate guard by 8 to 1! No, Friedrich, this is not merely an escort.
Leibnitz paled intensely, but resumed the march side by side with one of his soldiers. Claire chose to stay at the hostel, but after a discreet gesture of her, two Gardes de l'Etrier in civilian clothes started following both Catalan military from a safe distance.