Barcelona, 14th August 1713
That morning, a crowd had gathered at the port of Barcelona to follow the anchorage maneuver of a just arrived light frigate fleeing flag of the Order of Malta. Once finished the ship captain's process with the port authorities, the only descending passenger was a beautiful young lady, who was dressed in a long vest of military appearance, the same color as the English infantry uniform -a colour quite well-known in Catalonia, after 6 years of uninterrupted British contribution to the defense of the Principality, and such circumstance naturally increased the initial public expectation. The young woman gently broke through the crowd, until she found an officer of the
Stillness Company
, whom she addressed to in a nearly perfect Catalan language, with just a slight British accent:
-I must meet Lady Elisenda Folc de Cardona, Countess of Prades. Would you mind to let me know her address? I'm bringing to her an urgent message from Vienna.-Er... at... at Montcada Street, milady.
-Overwhelmed, the policeman offered himself to accompany the lady to the given address. After hearing the brief conversation, excitement among people grew almost explosively, and news spread all around the city as a burning powder trail.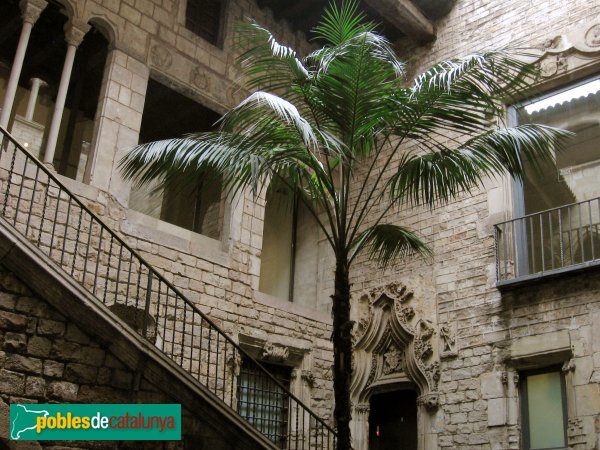 At her late-Gothic palace in the luxurious Montcada Street, Lady Elisenda was nervously pacing up and down her deskroom. Just a short time before, she had been to the Army Headquarters, where she had hold a bitter discussion with General Villarroel. On hearing news of the abuses committed by King Philip's troops in Tivissa town, the young lady had got enraged (Tivissa was precisely the head town of her County of Prades). She had planned to select the fifty most resolute women in her Regiment, and lead them in a horse ride towards the ravaged county, to somehow relieve the population and the prisoners taken by the Spaniards. However, she had been prohibited doing so by General Villarroel himself:
-By no means. I will not authorize your suicide, Milady!
-No matter how influential she might be, General Villarroel was the supreme military authority, and she had no other chance than bending to his will.
Then a secretary interrupted the broodings she was committed to:
-Milady, a foreign lady has requested the mercy of meeting you right now.
Lady Elisenda received the woman in the tea room. She got immediately curious at the appearance of the girl, whose stylish suit was clearly reminiscent of a military costume. She happened to see a similar expression in the glance of her guest, and then Lady Elisenda recalled she was wearing a quite similar dress -albeit hers was in the colors of her Daughters of Minerva Regiment -royal blue with violet facings. An unconscious bond of empathy between both girls had been established.
-Tell me, who are you and where are you coming from?
-Lady Elisenda asked.
-Milady, my name is Fiona McGregor and I'm coming from Vienna. I've been commissioned by His Majesty Emperor and King Charles for delivering to you an urgent message from Him
-and then lady Elisenda was shown an envelop. It was stamped with the Imperial seal.
Surprised, Lady Elisenda took the visitor in the deskroom and ordered not to be disturbed under any concept. Once both women were alone, the countess opened the envelop. The letter was signed at hand by King Charles himself, and required her assistance to Vienna before the end of September, with no explanations beyond an enigmatic
"matter of utmost importance to the becoming of the Catalan Nation and peace in Europe"
. Then she realized there was a second stamped envelop inside the first one, and she hurriedly opened it. There was another manuscript of Charles, whose content made Elisenda to draw a slightly melancholic smile at first. That second letter was shorter than the first one, but its content resulted to be far more revealing. After reading it, Lady Elisenda could not repress an exclamation:
-Oh Karl!! ...you shouldn't do this... Not me...