Versailles, 20th September 1713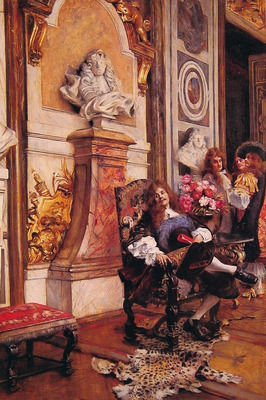 He had been waiting for almost 4 hours in that hall tight of pleading subjects, so that his kidneys' pain had started reviving.
Marquis de Vilana
felt tired and sore, for sure. But above all, he was under a deep anxiety. He'd begun fearing he was being deliberately ignored by the French Authorities --or were they perhaps just seeking to intimidate him?
He fought against the invading discouragement by concentrating himself again on the revelations of
Fra Pere Arenós
, and their significant implications. He reviewed by heart the explanations of that man, who was now lying in a discreet inn on the
rive gauche
of Seine, permanently guarded by Vilana's trustful Catalan Guards.
Then
Claire Baizanville
walked quietly to him. At the risk of being recognized by someone, Claire had volunteered herself for getting introduced in Versailles, disguised as a pleading
parisienne
girl. After getting ensuring no one was watching them, Claire whispered in his ear:
--My Monte-Cristan informers have let me know some news of your Principality, Marquis. A few days ago, a large Spanish army was severely beaten in their way toward Barcelona, at a place called Vilafranca. Even one of their officers was taken prisoner there, a General Castillo.--General Castillo!?
--exclaimed Vilana, making an effort to not speak up. So that the man appointed by King Philip V as
Captain General
of Valencia, the man who had
absolute
powers on all civilian and military affairs of Valencia, was a prisoner of the Catalans? These were really good news indeed!
Then Claire noticed something and quickly disappeared. Before Vilana could take over the reason, a palace usher came to him:
--Excellence, would you mind to follow me?
After an almost endless walk through a number of rooms and corridors, Vilana suddenly found himself alone in an empty office. The room was small but comfortable, and there was a fire lit. Nobody else at sight, however. He decided to sit on an armchair, nearly conformed to a new long wait, but...
...but after a short time an egregious figure entered in the room without a previous notice. When Vilana realized who that personality was, he got astounded. In front of him, there was
Philippe de Bourbon
, Duke of Orléans.