Versailles, 3rd November 1713
On the next morning,
Princess Elisenda
went back to the room where negotiations were hold a little bit earlier than scheduled. Once there however, she found she wouldn't be alone --for there was someone already waiting.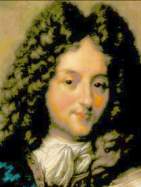 It was the
Duke of Orléans
who, when noticed Elisenda, stood up and greeted her with courtesy. They afterwards started an accidental, insignificant conversation. But after a while Duke Philippe looked around to make sure that nobody was listening them, and then lowered voice to say:
--Dearest, I'm afraid your Legation should consider whether your borders alteration proposal is appropriate to this negotiation circumstances or if, contrarily, it suffers from more boldness than convenient...
Elisenda blushed slightly. Duke Philippe discretely prevented her from responding at once and then apologized with a smile:
--Please, I'd hate to be misunderstood. I am simply asking you to wonder about an appropriateness matter.
Elisenda nodded briefly and smiled too:
--I wouln't like to be misunderstood either. We are not demanding for as if we were owed it; but just trying to explain our starting point for a best neighbour agreement. Then, if seeking a valid legal precedent, the Treaty of the Pyrenees is useless to us, because it was signed by the King of Spain dispensing our own Parliament's mandatory consent. This is why we are setting the Treaty of Barcelona as our latest valid precedent.
Duke Philippe stared for a long while at the Princess's eyes with a half-smile, as if evaluating her, before answering:
--Most grateful for such clarification, my dear princess. Unfortunately, the Treaty of the Pyreness is a fully valid precedent to us, and indeed Roussillon province has been enjoying our government for long since...
--Well, now we know each other's starting point clearly enough
--Elisenda drew her most charming smile--.
So we just need to sit and calmly discuss and negotiate the matter.
The Duke laughed softly, in a gesture showing recognition of Elisenda charms as well as immunity against them:
--I am persuaded you are aware that every negotiation involves an exchange, then. Your Principality should be prepared to offer something substantial enough to France, if hoping to be listened.
Elisenda didn't respond at once, but she approached a large window instead and watched the landscape for a long while.
But when she faced the Duke again, Elisenda was no longer smiling:
--To be honest, Sire. France relies on the natural boundaries axiom to invoke the Pyrenees range as such. However, the Pyrenees are no border to us, but our very backbone instead. I eagerly assume that France has the right to safety, even a dramatical needing for it. But wouldn't you also agree that not less dramatic is the right not to be broken the backbone?
--No side should give up anything perceived as a necessity, I believe
--she quickly continued--.
Does France claim for safety? Well, I'd find it thoughful to agree a permanent assignment of all fortresses in Roussillon to France. Let's make Roussillon an actually safe territory for France, deprived from Catalan troops except at France's own request.
--But let us in charge of the civil jurisdiction in exchange. Let us rebuild our backbone. What is safer to your perception, an ever resentful border province or a grateful, reliable neighbour instead?
--Bon, ça n'est pas si mal
--Duke Philippe ironically answered--,
as a start at least...