Gerri de la Sal, 7th December 1713
[On last weekend it was fought the first battle of this turn, by the gaming group of Lleida city, who so kindly have offered themselves before for other proxy battles.

[This time, they had volunteered for gaming the ambush of General Moragues' Mountain Fusiliers over a Walloon battalion lead by Marquis of Bus, in a remote Pyrenean valley half buried in snow.

[This is their battle report]
Suddenly, the thunderous cracking of a musketry volley tore with violence the hitherto so calm, silent valley. That very first volley proved quite unsuccessful, as a matter of fact; but a lucky shot hit the officer leading the Walloon scouting vanguard, making his men to leave the road in disorder for some cover. Contrarily, the bulk of the battalion behind managed to keep order and formed a line to repel enemy fire.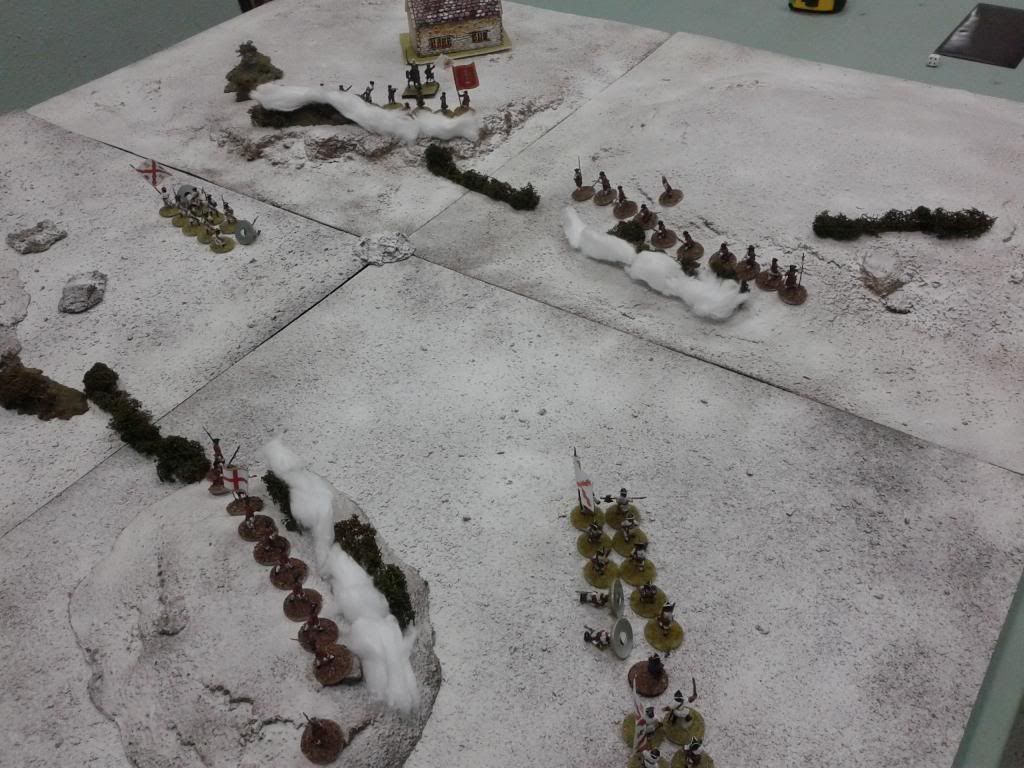 Starting volley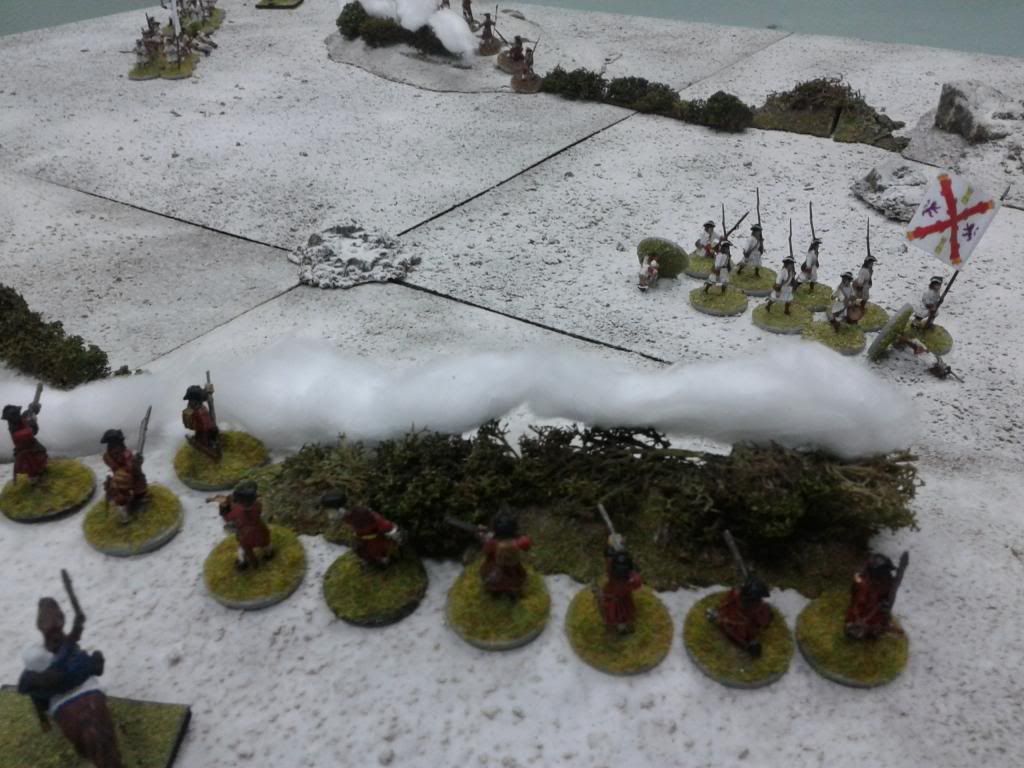 First casualties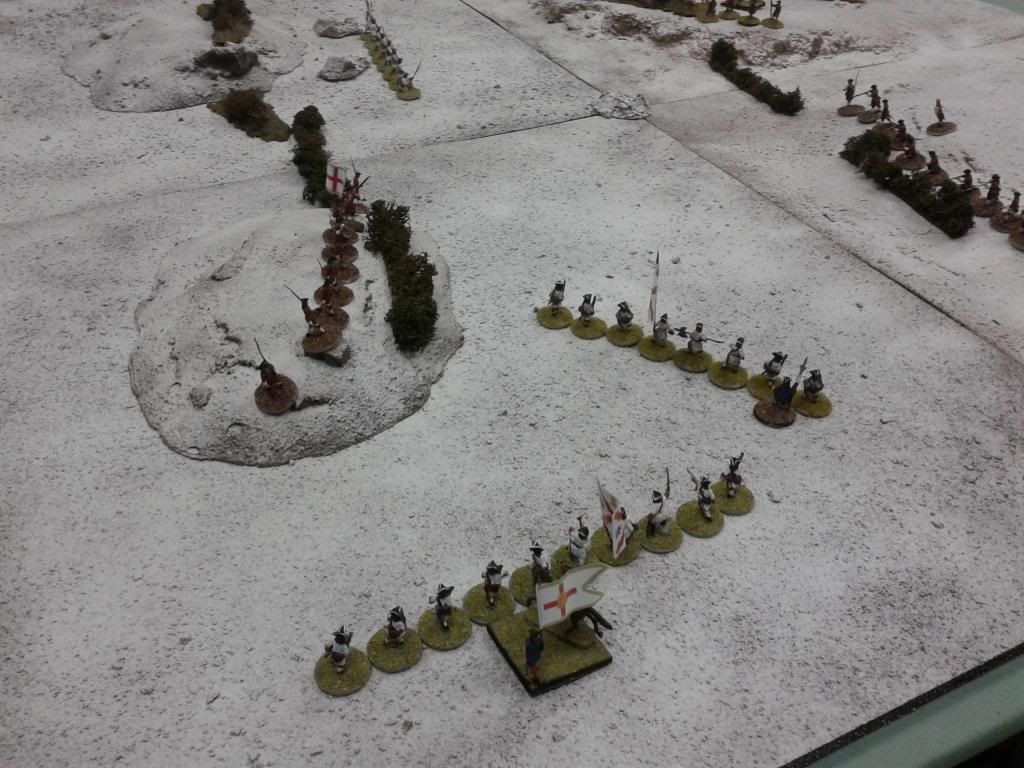 The Spanish rearguard forming a line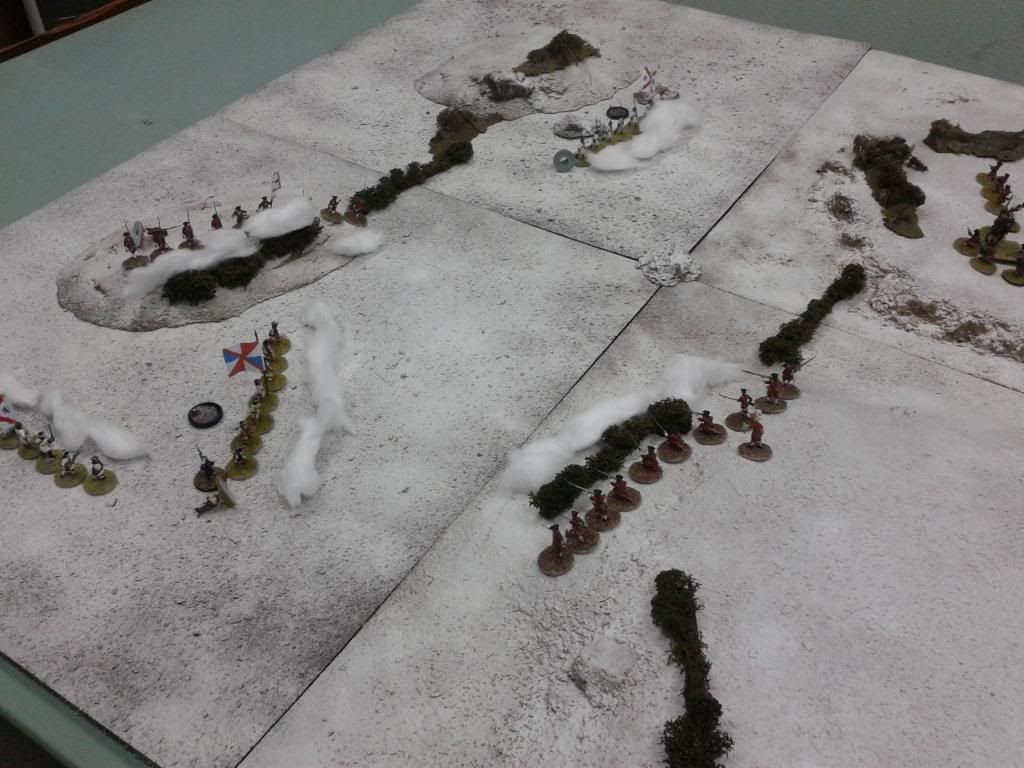 A furious exchange of musketry fire starts
After a pityless exchange of fire, another lucky shot hits the Spanish second-in-command, this making about one third of the battalion to flee. At the opposite side of battlefield though, things start going differently. Demoralized by the Walloons' steady fire, part of the Catalan Miquelets also fall back from their positions, so starting a ruthless retreat too. Trying to restore order in the deserting ranks, General Moragues is close to being swept away by his own men.


Taking advantage of the Catalan momentary loss of control, a second Walloon formation rapidly decides to withdraw in good order before the enemy leadership is restored --thus avoiding anihilation. Unable of doing so too, the Walloon foremost detachment choses to surrender.

In the end, the balance for the Catalan side is:
Starting force: 30
Casualties: 2
Routing: 9

And, for the Spanish side:
Starting force: 30
Casualties: 9
Captured/Disbanded: 15 --including the Spanish commander, Marquis of Bus
Successfully exiting the field: 6 --with no senior command

[And this weekend, an actually big battle, to be fought by ourselves. The mother of all battles, I'd say --well, some malicious propaganda actually, for demoralizing those damned stubborn Galateans, hehehe...]